I know Sukoshi Con was nearly a week and a half ago, but work kept me busy and away from the blog for a few days. However, the last of the interviews are finally included here. 
This is Tiffany, and she's sporting some sailor Lolita fashion. Sorry about the picture quality, but they all can't come out perfect. You can follow her on Facebook at Ikataru Cosplay. Tiffany is drawn to Lolita because she enjoys the frills, poof, and the overall girlyness of it all.
This is Tabi, a young lady sporting some Gothic Lolita fashion. When I asked her what she likes about Lolita, she said: "So much poof." She runs a shop on Story Envy called Sweets Haven. Her products are pretty cute, so give her a shop a gander.
This is Bob Buehl, a friend and fellow cosplayer. He's cosplaying as Col. T. Sanders, a ponified version of KFC's mascot and founder, Colonel Sanders. He got into cosplay through his son and My Little Pony through his granddaughter.  He enjoyed cosplaying so much, he kept doing it. Bob also has a background in theater, which has helped him with his cosplay endeavors.
This is Tim, who is cosplaying as Berry Punch, a background character from "My Little Pony: Friendship is Magic." He cosplays because he has fun with the hobby, sees it as a way to get into the convention scene and feel, he likes the creativity cosplay offers, loves meeting new people, and enjoys being a personal character.
This is the Fresener family. I met them as Saturday night was wrapping up and by sheer accident. From left to right: Ash, Oriana, Vicki, and Mike. Each of their cosplays were very different, and they all had their own reasons to cosplay.
Ash cosplayed L from Death Note. He loves anime and claimed he; "Doesn't have to be myself."
Oriana cosplayed as Misty from Pokemon. She cosplayed because her brother ask wanted to attend the convention and she loves Misty as a character because she's feisty and "[Misty] beats Ash up a lot."
This is Vicki as the iconic Hatsune Miku from Vocaloid. This was Vicki's first convention and first time in cosplay, and she came primarily to support her children. She has years of costume experience because she and her husband attended Renaissance fairs.
And lastly, this is Mike as Villager #2 from every anime ever!! He cosplays because he loves interacting with people, dressing up, and he started costuming thanks to Renaissance Fairs. He's also won a few awards, so he enjoys the competitive element costume contests bring to the hobby.
Mike owns and operates Tribe Toys, a shop in Leitchfield, KY. He sells toys and gear for rhythm and revolving.
On a final-ish note, I want to give a shout out to Paper Tea Lights. She makes these adorable Legend of Zelda themed skirts. If you happen to like skirts, or know someone who likes skirts, go ahead and get one.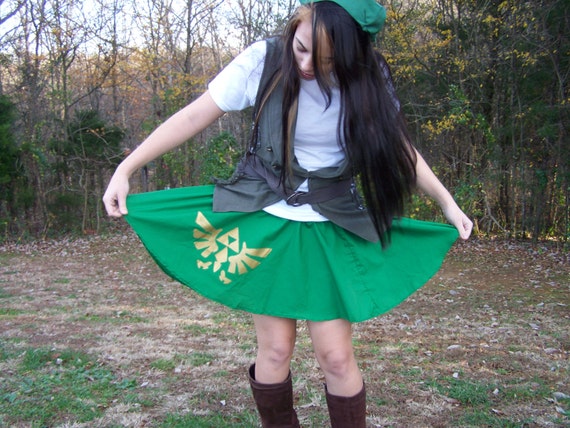 Well, that ends my Sukoshi Con coverage. I met lots of awesome people and had a fun time, and I hope the convention returns to Bowling Green again next year. It was a total blast.